This article provides a step-by-step guide on how to cut someone else's hair with clippers, resulting in a professional looking, stylish finish.
With a little practice you'll be an expert at using hair clippers in no time!
The way you cut someone else's hair with clippers is actually fairly similar to cutting your own hair.
Tools You Need To Cut Hair With Clippers
Good Quality, Mid-Range Clippers
If you haven't yet bought your clippers or are thinking of investing in a new pair, I recommend you read my reviews of the best hair clippers currently available.
There is a vast range to choose from depending on your skill level, budget, and what style of cut you want to achieve.
In my opinion, the best hair clippers for beginners or home use, are the SUPRENT Pro All Metal Hair Clippers &T Outliner Trimmer HC596SX.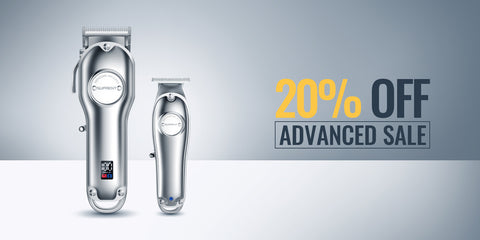 Another good choice would be the SUPRENT Corded Hair Clipper HC415BA – an excellent beginners clipper that comes with all the accessories you'll need for a home hair cut.
The simple yet effective idea of color coding the blade guards, makes life much easier when choosing your desired hair length.

Sure at this price point you're not getting a premium clipper, with a super powerful motor and all the accessories.

But for occasional home use, this cordless hair clipper does the job perfectly well.

If you can stretch the budget, I'd go for the SUPRENT Pro All Metal HC596SX.

A good quality pair of hair clippers is an investment that will pay for itself in just a few months if you intend to cut your own hair or someone else's.
Before You Start
Make sure the hair is clean and washed before you start to cut.
Clean hair makes it easier and smoother to cut.
If you try and plow through hair that has a ton of product in it, or cut greasy hair, the clippers can become blocked and start grabbing at the hair instead of slicing through it.
Clean hair also makes it much easier to see any areas you've missed.
Hair should be dry, or just slightly damp before you cut it, as wet hair lays differently to dry hair.
6 Steps For Cutting Hair With Clippers
Step 1
Have everything you need before you start – clipper, comb, cape, vacuum, neck shaver and any lotions you might want to use afterwards.
Have the correct attachments you'll need for the desired length.
A number 4 (1/2 inch) is a good length to start for short hair.
Remember, you can always cut shorter if at first it's still too long… you can't add it back once you've cut it!
Step 2
Ideally the person who is receiving the cut should be sat in a comfortable chair with a towel or cape around their neck to keep clothing from getting covered in hair.
If you're in your home you might want to put a plastic sheet down to catch the hair and then you can shake it off outside when you're done.
A vacuum is always a good idea to have near by. I like to clean up as I go along with a handheld vac.
Try and position yourself so that you're not going to be hunched over for long periods. This might mean raising the person using a pillow or a higher chair.
Step 3
Ensure you have the correct comb attachment for the desired length.
The ideal starting point to cut hair with clippers is the base of the head, and work up towards the top of the head.
You should always work against the direction of the hair for a more efficient and even cut.
Tilt the head forward slightly and rest the clippers on the back of the head.
Turn on the clippers and apply a firm pressure and start moving up towards the top. You should have a firm grip of the clipper.
Repeat this procedure until the hair has been cut evenly.
You can use a comb to run through the hair ensuring an even finish and check for any areas you may have missed.
Step 4
Now you can move on to the sides of the head.
Again start at the based and move forward to the sides.
Pull the ears away to ensure you get the clipper up around and behind the ears.
Repeat as necessary working in the opposite direction to the growth of the hair.
Step 5
The top of the head. Start at the front of the head (the forehead) and work from the hairline backwards towards the top of the head.
Continue until the desired length and an even finish has been achieved.
Step 6
You should now use your hair trimmer to trim the hairline as necessary i.e. forehead, neck and sides of the ears, so that the haircut looks smart, even and symmetrical.
Finally clean up stray hairs on the back of the neck beyond the hairline using the clippers without an attachment. The bare edge is very sharp, so be careful and work slowly.
Voila! Your clipper-cut is complete, to the exact way you like it, and you've just saved yourself $10-$50 or so.
You might want to examine the whole head and comb the hair through, to ensure there aren't any stray hairs you've missed, and go over them again.
I would recommend doing this throughout the cut, especially when you're first learning.
Obviously the more times you do it, the easier it becomes.
Other Hair Styles You Could Try
As well as the basic one-length cut as described above, you can also use your clippers to produce more technical styles and looks.
For example, you can fade hair so that it is gradually increased or decreased.
This is achieved using the same procedure but changing the guard attachment for different lengths.
Lots of other looks can be achieved, and with a little practice you will be competent at completing them.
Conclusion
The price of purchasing a good pair of professional hair clippers will be quickly outweighed by the money you will save by cutting hair at home.
With care and attention to detail, you can learn to cut hair with clippers and produce results that are every bit as good as a barbers or hair salon.
The best piece of advice I can give you is to invest in the best pair of hair clippers you can afford (for the job you intend to do).
They will make it easier to cut, and give a good professional finish..and will last you for years.
If you have any questions or comments about how to cut hair with clippers, contact us from email.
A Big Price Drop Deals for HC415BA